Duqm Refinery Financing Won the Best Overall ECA Finance Deal of the Year
Duqm Refinery Financing Won the Best Overall ECA Finance Deal of the Year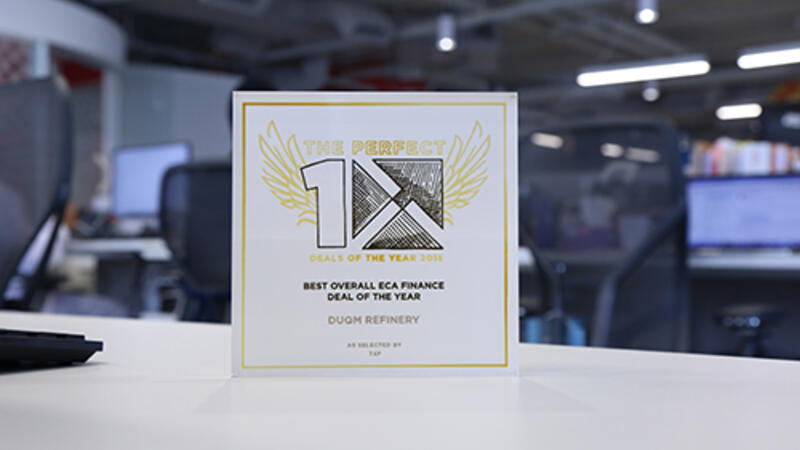 Muscat: Duqm Refinery project was recently recognized by Trade and Export Finance (TXF) 2019 Global Awards, the leading ECA market publication. The winning projects were honored in a ceremony which was held in Berlin recently. This award comes after the successful US$4.6 billion financial close of Duqm Refinery project which is considered as one of the major project deal in the Gulf region in 2018.
Each year at TXF Global Awards, the perfect ten Deals of the Year Awards in export & project finance are recognized. The Perfect ten deals represents the most innovative, market influencing transactions of the year. They are shortlisted and voted for by the market, and therefore represent an accolade that is highly prized by the industry and an incredible achievement.
"Achieving financial close and winning this award is a recognition of several 'firsts' that the project has delivered on" said CEO of Duqm Refinery, Dr. Salim bin Saif Al Huthaili. "This is not only the first cross border project in the Gulf region, but also the first where two government owned Oil companies are partnering on such an initiative", he further added.
Majid Al Bahri, General Manager for Strategic Finance stated in this occasion: "we are grateful for the recognition for the hard work done by our teams and for achieving this important milestone". He further thanked Duqm Refinery's shareholders, Kuwait Petroleum International and Oman Oil Company for their continuing support.
Al Bahri added: "The multi-sourced financing signed for the Project is not only the largest project financing in the Sultanate of Oman, it also includes the largest sharia compliant facility awarded to a green field project in the country provided by a consortium of Islamic financing institutions". He further added, "Facilities have been provided by 29 reputed financial institutions from 13 countries and guarantees from three major global ECAs".
Crédit Agricole Corporate and Investment Bank, KfW IPEX-Bank, Société Générale, Sumitomo Mitsui Banking Corporation, Bank of Tokyo-Mitsubishi UFJ, Ltd., BNP Paribas, Banco Santander, ICBC, Natixis, Standard Chartered Bank, Korea Development Bank, Commercial Bank of Kuwait are just a few of the international banks providing facilities to the Duqm Refinery project.
Whereas Bank Sohar, Bank Muscat, Ahli Bank and National Bank of Oman are some of the local banks have committed facilities to the project.
The facilities comprises of International Commercial Facility, Onshore Commercial Facility, Islamic Facility, UKEF Covered Facility, CESCE Covered Facility, K-EXIM Covered facility, and K-EXIM Direct Facility.